2010 Saturn Vue Plug In Hybrid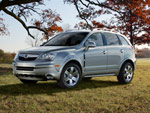 >>>for more photo
GM is adding another feather to its cap in green SUVs (at least for those who dont consider green SUVs to be an oxymoron). The 2010 Saturn Vue Plug-In Hybrid is estimated to be hitting showroom floors sometime in 2010.
The PHEV Vue (Plug-in Hybrid Electric Vehicle) is currently going through test trials of a new upgrade- GM has traded in their nickel-metal hydride batteries used in prototypes for Lithium-Ion packs. So far, GM seems extremely pleased with the developments.
The new system will be a variation on the two-mode hybrid Vue coming out in 2009. Really, the only difference will be the addition of plug-in capability. Current estimates suggest that the Vue plug-in hybrid may double any current SUVs fuel efficiency when the battery is fully charged. The battery takes 4-5 hours to charge on a typical 110V outlet.
According to GM the Vue plug-in hybrid will be able to run a less them impressive 10 miles just on battery, before the charge is depleted enough to activate the two-mode hybrid systems motors. The battery will be recharged while driving through the systems electric motor and regenerative brake systems.
Since the Vue Plue-In is basically going to be the 2009 Vue Hybrid, with a few modifications, it makes a bit of sense to take a look at what we know about the 2009 Vue Hybrid, and see what it can tell us about its plug-in sibling.
GM is happy to provide some stats on the Vue Hybrid. They show an estimated 32 mile per gallon, highway (pretty darn good for an SUV) and a highway range of 585 miles per tank. A high towing capability - up to 3500 lbs, and a 7.3 0-60 rounds out a fairly impressive showing. Visually, the 2009 hybrid looks a great deal like its predecessors.
Presumably, the addition of plug-in capability, which shouldnt add any significant weight, or affect the drive system, can only improve the performance. Whether or not the improvement is worth what ever extra price GM may tack on (no word on that yet), and whether the plug-in will receive the response GM hopes for is still up in the air. There is some antipathy to the idea of SUV hybrids, and GM seems be getting more flak in that area then most automakers, probably because of the number of SUVs in their stable. What ever the case, as the first major manufacturers plug-in hybrid to hit the market, the 2010 Saturn PHEV Vue certainly bears watching.