2009 Porsche Cayenne Hybrid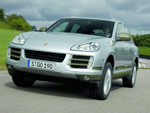 >>>for more photos
Porsche, a company better known for high performance sports cars and the Cayenne SUV is keen to demonstrate its green credentials, and so has decided to produce a hybrid version of the 2009 Porsche Cayenne Hybrid , due for introduction in two years time.
The target is a 25 percent reduction in fuel consumption, particularly in city traffic, and this equates to about 24 miles per gallon for the hybrid system. Porsche says future developments to the system could push this out to 26 miles per gallon.
The hybrid system is a full series-parallel system, but with a clutch and electric motor positioned between the 3.6 litre V6 engine and the transmission, rather than integrating the electric motor into the transmission, as in the Toyota Prius. This, says Porsche, allows the existing in line configuration of the Cayenne drivetrain to be used, and that in testing this format proved to be more efficient than integrating the motor into the gearbox. The hybrid system adds around 300 pounds of weight to the Cayenne, and the Cayenne has the ability to operate on electric power alone, but only for a limited time.
Controlling the hybrid system is the Hybrid Manager, which monitors 20,000 data parameters - compared to the 6000 data parameters monitored in a conventional engine.
In addition to the hybrid system the 2009 Porsche Cayenne Hybrid
differs from a standard Cayenne by having electric power steering, a vacuum pump for the brakes and even the air conditioning. They no longer draw power from the engine, but from the nickel metal hydride battery mounted under the trunk floor. The battery is twice the size, and has twice the power of a Prius battery.
Like the Prius, the Cayenne hybrids engine shuts off when it is stopped, and the electric motor and clutch start the engine again when the SUV starts to drive off. Also similar to the Prius, the electric motor becomes a generator under braking, using regenerative braking to generate electricity to charge the battery.
Not only does the Cayenne hybrid use less fuel, its also quicker to 60 mph by about half a second than the standard non hybrid V6 version.
Unlike some other SUVs with hybrid drivetrains the Cayenne is not hampered by restrictions on water wading depth, so the SUV can still go off road if you really want to. The hybrid system is being developed in conjunction with Volkswagen and Audi, which will allow those auto makers to produce hybrid versions of the Touareg and Q7, respectively.
Expect to see the Cayenne hybrids drivetrain in the upcoming four door Porsche Panamera, which debuts in 2009, with the hybrid version coming along at a later date.