Honda CR-Z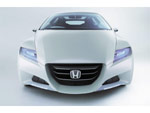 >>>for more photo
This past January, Honda CEO Takeo Fukui revealed that a production hybrid based on the CR-Z Concept shown in Tokyo last year is going to be a reality. It currently looks as if the CR-Z will first be released in Europe, with a guesstimated US release date of sometime in 2011.
The original CR-X was a lightweight, and small, hatchback that managed to be a fun car, with a small efficient engine. The CR-Z coupe should also be small, fun and efficient, with the addition of Hondas updated Integrated Motor Assist hybrid, to push the fuel efficiency to the next level.
The design team for the 2011 Honda CRZ Hybrid is based in Europe, where the majority of sales are expected. The CR-Z Hybrid is expected to be an anchor for Hondas European line. Specifically, Hondas UK branch is handling design, while engineering and testing are taking place at Offenbach in Germany.
The hybrid system in the CR-Z will be the same one used in the Fit Hybrid, to be released the end of 2009. That includes nickel based batteries, and a lack of plug-in adaptability.
The CR-Z itself is a replacement for the popular CRX which was pulled off the market recently. The concept car for the CR-Z has a similar profile to the CRX, as well as a glass rear. The new design also includes an oversized grill, aggressive wedge shape, and centrally mounted dual exhausts. The LED headlights are a nice touch, as are the electric side mirrors.
For the interior, Honda tried to combine modern high-tech with classic sporty design. The result includes an interesting mesh material on all fabric surfaces, and a lot of LED displays. The whole effect is both futuristic and funky. Unfortunately, I have to wonder if all the fun inside will be a distraction from the road.
Honda has tagged the CR-Z (by the way, that stands for Compact Renaissance - Zero) as a next-generation lightweight sports car equipped with a Honda petrol-electric hybrid system.
Unfortunately for those of us in the US, Hondas focus on Europe has left us guessing - guessing when well see the 2011 CRZ Hybrid, guessing what its going to cost when it does arrive (Honda is talking around 25,000 euros for the lucky stiffs across the pond), guessing when we are finally going to get the information we are waiting for. Hopefully, Honda wont leave us guessing much longer.