Cadillac Provoq Concept Luxury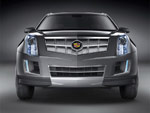 >>>for more photo
The Cadillac Provoq concept luxury crossover first showed up at the Consumer Electronics show in early January, 2008. It was billed as Cadillacs vision of the future for luxury transportation, and a contention of GMs commitment to ending vehicle dependence on petroleum.
The Cadillac Provoq concept is a hydrogen/electric hybrid, which combines a fifth-generation fuel cell (which is half the size of prior models) and a lithium-ion battery to drive the vehicle with no gasoline, and no emissions other then water.
This concept car has a range of 300 miles per fill of hydrogen, and can drive up to 20 miles on pure battery power. A pair of composite storage tanks sits beneath the trunk, and holds about 13 pounds of hydrogen, to feed the fuel cells under the hood. The battery pack can store a total of 9kWh of electricity, and provides up to 60 kW of power.
There are three electric motors, one for the front axel and one each for the rear wheels, providing all-wheel-drive, and amazing dynamics. According to Cadillac it has a 0-60 mph of 8.5 seconds, and has a top speed of 100 mph.
The Cadillac Provoq hydrogen was designed with classic Cadillac bodywork, and large passenger and cargo spaces. In what seems to a popular innovation in concept cars over the past few years, it includes solar panels to power accessories, though unlike most of the recent concept cars to include them, these power interior lights and audio rather than A/C and ventilation fans. Cadillac has also designed a unique motorized element to the front grill, allowing it to close at high speeds for better aerodynamics, and to open at low speeds, to improve cooling of the fuel cell.
Oh, and the Cadillac Provoq hydrogen is a plug-in; capable of overnight charging. Charging extends the driving range, though Cadillac isnt telling us by how much. The plug-in ports come with a light indicator that lets you know when charging is complete. Unlike most plug-in vehicles, Cadillac doesnt conceal the ports, but makes them a part of the design elements. According to Hoon Kim, the exterior lead designer, Sweeping body lines that culminate at the top and bottom edges of the ports suggest forward thrust, even when the vehicle is stationary.
The interior of the Cadillac Provoq hydrogen is just as much a Cadillac as the exterior. The contracting dark gray and light gray of the color scheme are matched by chrome and satin chrome accents. The instrument cluster is unique, including large LCD displays, and offers multiple readouts including information on vehicle performance and fuel cell information. The dashboard design is reminiscent of the CTS, released earlier this year.
There is no word from Cadillac of when, or even if, the Cadillac Provoq hydrogen will go to production.