UMW Toyota Motor Sdn Bhd has unveiled the new 2008 Toyota Corolla Altis here in Malaysia.
The new Toyota Corolla Altis is now a CBU unit from Thailand, just like its bigger brother the Camry. In terms of dimensions, the car is now 10mm longer than the outgoing Corolla Altis, but wheelbase remains the same at 2600mm, so underneath it all it is probably the same platform. A 2600mm wheelbase would make it just 50mm longer than the new Vios.
The width has been increased by 55mm to 1760mm so this should also logically translate to a wider interior. Height has been reduced by 15mm. The car looks larger and more planted to the ground compared to the older design because of this wider and slightly lower stance. Front headlamps are of the reflector type and use normal halogen bulbs while the rear lamps use LEDs.
Suspension also retains the same design as the outgoing Altis - a MacPherson strut setup at the front and a torsion beam at the rear, which is beneficial for boot space and packaging reasons but considered by some motoring-savvy consumers as cost-cutting. The Altis target buyer would probably not care. Brakes are ventilated discs at the front and solid discs at the rear.
Toyota has designed the new body of the Toyota Corolla Altis to be more aerodynamic for better fuel efficiency, better high speed stability, as well as reduced wind noise. The shape of the A-pillars, windshield wipers, flush mounted windscreen glass all contribute to better aerodynamics.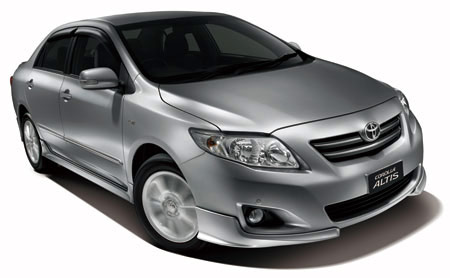 The dash features a clever floating center stack similiar to a design pioneered by Volvos. There is a small storage compartment behind the floating center stack. The glovebox is two tiered despite there being a passenger airbag, a clever design feature. The 1.6E, 1.8E and 1.8E Sporty models gets a normal twin-dial meter panel while the top of the range 1.8G and 1.8G Sporty models get an Optitron display. The front center arm rest is set in a high position and slides fore and aft to match your elbow position. The 1.8E and 1.8G models get automatic climate control while the 1.6E gets manual air conditioning. The interior has a flat floor for the rear. The top of the line 1.8G model features an 8-way electrically adjustable power seat for the driver.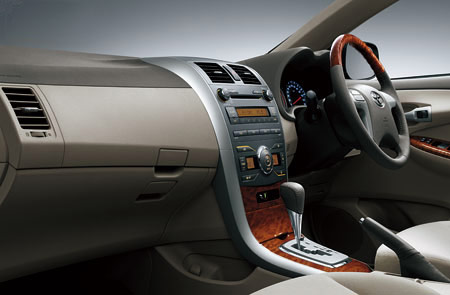 All models get a multi-info display which can show the following information:
a) current fuel consumption in km/l
b) average fuel consumption in km/l
c) range to empty in km
d) average speed in km/h
e) elapsed time and
f) outside temperature.
The km/l unit can also be changed to liters per 100km. Changing the multi-info display modes is via buttons on the steering wheel, which is very handy indeed as I know of some cars with multi-info trip computers but they require awkwardly reaching a button sticking out of the meter panel typically shared with the trip reset function.
And now to the engines. The engines in the 1.6 and 1.8 liter variants are the same 1ZZ-FE and 3ZZ-FE DOHC 16 valve VVT-i engines as the outgoing model, with a few technical changes. For one, the 1.8 liter 1ZZ-FE complies with Euro 3 emissions standards now so there is a reduction in horsepower to 132 PS at 6,000rpm. Torque teaches its peak of 170Nm at 4,200rpm. The 1.6 liter 3ZZ-FE produces 109 PS at 6,000rpm and 145Nm of torque at 4,400rpm.
Despite being a 1.6 liter, this is exactly the same horsepower output as Toyotas 1.5 liter 1NZ-FE in the Toyota Vios, but it makes slightly more torque compared to the 1NZ-FEs 141Nm. The engines now use a drive by wire throttle. The power steering system now uses an Electric Power Steering system.
These engines are mated to a 4-speed auto with the same transmission ratios of 1st - 2.847, 2nd - 1.552, 3rd - 1.000, and 4th - 0.700 with a final drive of 4.237. Toyota says they have fiddled with the ratios a bit and the end result is a faster 0-100km/h time compared to the outgoing model. The 1.8 liter model has a gated shift with the option of sequential manual shifting, while the 1.6 liter model has a normal gated shift.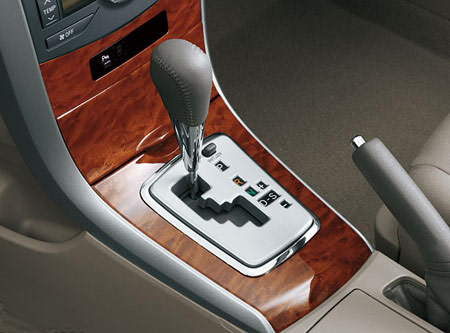 Safety systems that are standard across the model range from 1.6E to 1.8G include dual SRS airbags, anti-lock brakes, and brake assist. There is Vehicle Stability Control (VSC) and Traction Control System (TCS) available on the 1.8G and 1.8G Sporty models.
The following is a quick summary of the equipment level in the different models:
The baseline Toyota Corolla Altis 1.6E:

The Toyota Corolla Altis 1.8E adds:

The Toyota Corolla Altis 1.8G adds:

* 1.6 liter 109 PS engine
* 7-spoke 15 inch wheels wrapped with 195/65R15 tyres
* Electrically adjustable and retractable wing mirrors with integrated turn signal
* 4-spoke urethane steering wheel
* Tilt and telescopic steering column
* Single disc CD player with MP3 and WMA support
* 4 speakers
* Standard meter cluster with multi-info display
* Silver finishing on centre console, dash and door panels
* Fixed rear seat bench
* Manual air conditioning
* Front fog lamps
* Dual SRS Airbags
* ABS Brakes with EBD and Brake Assist
* Body coloured side protection mould and door handles
* Solar and security film (the kind that makes it harder to break your windows)
* 1.8 liter 132 PS engine
* Variable intermittent wipers
* 10-spoke 16 inch wheels wrapped with 205/55R16 tyres
* Sequential manual shift
* 4-spoke leather wrapped steering wheel
* Steering wheel-mounted audio controls
* Automatic climate control air conditioning
* 60:40 split foldable rear seats

* Chrome side protection mould and door handles
* 6-disc in-dash CD changer with MP3 and WMA support
* 6 speakers
* 4-spoke leather wrapped steering wheel with wood trim
* 8-way electrically adjustable power drivers seat
* Wood grain finishing on centre console, dash and door panels
* Vehicle Stability Control (VSC)
Altis 1.6E - RM102,900.00
Altis 1.8E - RM109,900.00
Altis 1.8E Sporty - RM112,250.00
Altis 1.8G - RM117,900.00
Altis 1.8G Sporty - RM120,250.00
*The 1.8E Sporty and 1.8G Sporty versions adds a bodykit which includes front and rear lips and side skirts. The Toyota Corolla Altis is available in 5 colours - Silver Metallic, Medium Silver Metallic, Black Mica, Beige Metallic and Greyish Blue Metallic. The following is the price list for Peninsular Malaysia, individual private registration:
Toyota targets sales of 800 units a month. Bookings had actually started being taken officially from the 7th of March 2008 onwards and up to yesterday evening there had been 798 bookings so far.