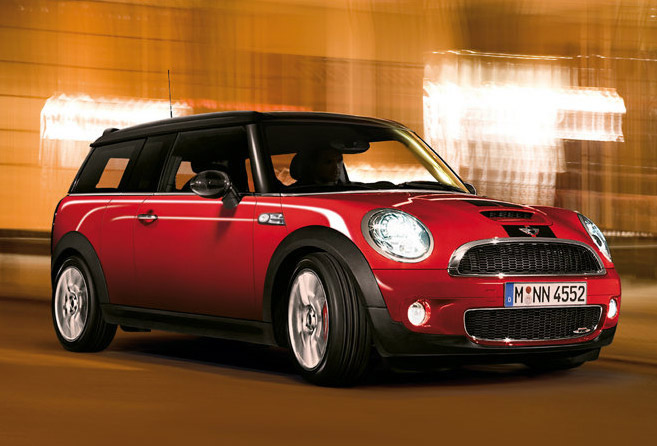 BMW has released more info, photos and videos of the new MINI John Cooper Works. Since BMW bought the rights to the JCW brand in December 2006, the MINI JCW is now developed in-house and rolls off the MINI production line at Plant Oxford. It will go on sale on the 22nd of July 2008 for 20,995 OTR for the Cooper version, with the JCW Clubman pricing to be confirmed later.
Enhancements over the standard Cooper S and Clubman S are found in the areas of engine, transmission and styling. The engine now has a larger twin-scroll turbocharger, resulting in an upgrade from 175hp to 211hp, with torque now at a peak of 260Nm between 1,850-5,600rpm with a 280Nm overboost. 0 to 100km/h takes 6.5 seconds (6.8 for JCW Clubman). The transmission and 22mm larger Brembo brakes are adapted from the MINI CHALLENGE race car.
The MINI John Cooper Works and MINI John Cooper Works Clubman are fitted with sporty suspension settings as standard. As an alternative, a sports chassis with harder damper characteristics and stronger stabilisers is available for the front and rear axle. For a more extreme racing orientation, there is also a John Cooper Works chassis available in the accessory range for the MINI John Cooper Works. It includes a lowering of the suspension by 10 millimetres, even harder damper characteristics and stabilisers with a diameter which is larger than those of the sports chassis.
For reliability and strengthening due to the higher boost pressure (up from 0.9 bar to 1.3 bar), the intake valves, valve seat rings, pistons, and cylinder head have been strengthened. Compression ratio has been reduced to 10.0:1 to compensate for higher boost, although this is still high for a turbocharged engine thanks to direct injection. The crankcase remains the same pressure die-cast block made of aluminium.
The DSC system in the MINI now has the DTC mode found in BMW cars. DTC is sort of a mid-way point between stability control being turned on or off. In DTC mode, stability control only activates in extreme cases, allowing you to slide the car around a little and do a little wheel spinning.
WIth DSC totally off, there is still the Electronic Differential Lock Control which will slow down the inner rear wheel when you power out of a corner to ensure power is transferred to the wheel with more traction. ELDC does not do this via retarding engine power. Three suspension settings are available - standard, sports (firmer with stiffened anti-roll bar) and JCW (firmer, stiffer anti-roll bar, and 10mm lowered ride height).