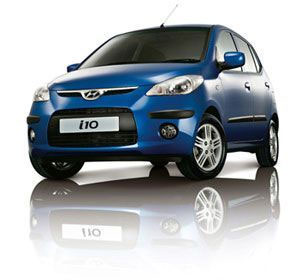 Hyundai Sime-Darby recently launched the Inokom i10, an economical and practical car designed by Korean car maker Hyundai. It claims that the car gives you 20 kms/litre on manual transmission while 17.2 kms/litre when driving on automatic transmission. This sort of fuel economy will surely go well with car buyers at a time when fuel prices are at an all time high.
The i10 is one of the new-generation of models from Hyundai which have a more European flavour. Like Kia, its affiliate, Hyundai wants to make a stronger impression in the European market where it sees a better chance to challenge the Japanese.
While sharing many engineering elements with the? Kia Picanto, the i10 not really a clone of the Kia model. 3565 mm long and 1595 mm wide (as long as a Perodua Viva but wider), it is essentially a city car C though long-distances would certainly be fine as well.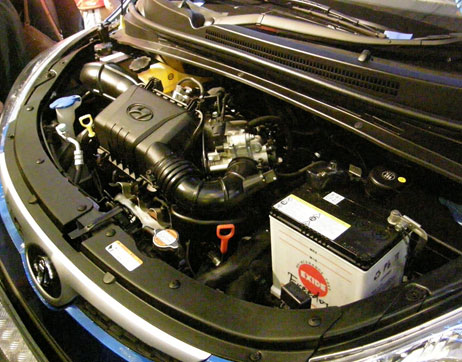 Power comes from a fuel-sipping 1.1-litre (1086 cc) Epsilon 4-cylinder engine which has a long stroke. Power output is 66.8 bhp/49.1 kW at 5500 rpm and 99.1 Nm of torque at 2800 rpm. Though the compression ratio is 10:1, the engine is probably tuned to run on low octane since fuel economy is supposed to be its strong point. Certainly, in Europe, consumers would expect to be able to use low-octane petrol.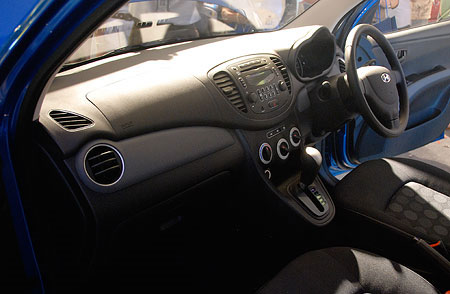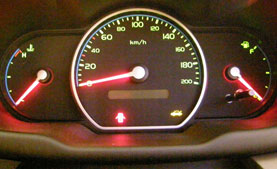 5-speed manual or 4-speed automatic transmissions are available and for the automatic transmission, the top two ratios are overdrive ratios to push rpm down as low as possible at cruising speeds for fuel-savings.
As a further contribution to fuel economy, the i10s rack and pinion steering system has an electric motor for power assistance. Of course, its light kerb weight of around 925 kgs also helps.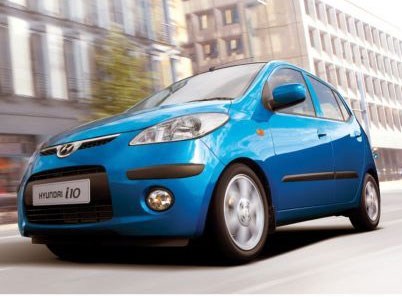 The suspension is typical for cars in this segment with MacPherson struts in front and a torsion beam axle behind. 14-inch alloy wheels are standard and shod with 165/60 tyres. Incidentally, the spare tyre is a full-sized one, not a skinny space-saver, but it comes on a steel wheel.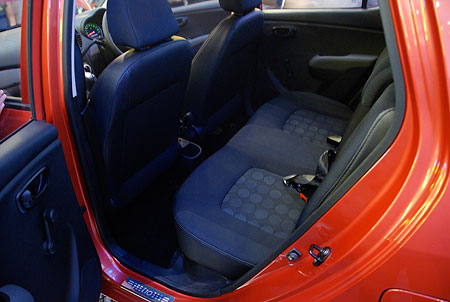 The interior of the car exudes a spacious impression especially with its high ceiling top while a double-DIN type audio system is attached that plays MP3 and portable devices as well. The car comes with a 300,000 or 5 years warranty. Dennis Ho, the Chief Operating Officer of Hyundai-Sime Darby said One thing which I want to assure customers of is that the quality of the locally-assembled version will be just as good as the CBU,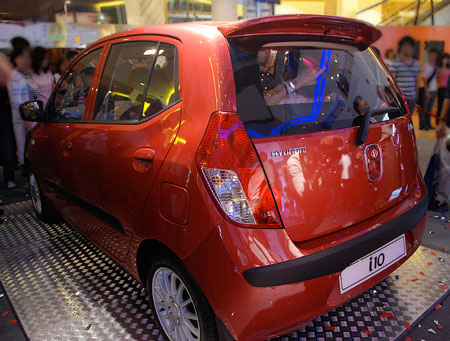 From all angles, the i10 is a cute little car though the headlights seem somewhat huge. While HSD is selling this model as an Inokom product, its a bit odd to see that there is also a Hyundai badge (just the wording) on the rear door! Like on some VW models, the latch for opening the rear door is under the flip-up Inokom logo.
Priced from RM48,888, the car comes standard with 2 airbags and ABS and is a 1.1litre 4 cylinder engine. Its produces 66.8 bhp/49.1 kW at 5500 rpm and 99.1 Nm of torque at 2800 rpm. Suspensions are default MacPherson struts in the front and a torsion beam axle on the rear and also original 14-inch allow wheels fitted in within 165/60 tyres