Steering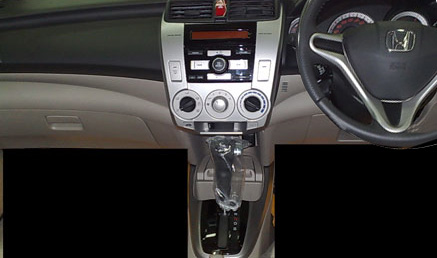 The previous City was also among the early models with EPS C power-assistance using an electric motor than the conventional engine-driven energizer that takes a little bit of power. The system has been improved with increased motor capacity and a modified steering gearbox mount configuration to give a steadier and more direct steering feel. The combination of further optimized suspension geometry and even more intelligent EPS control is claimed to deliver a natural, stress-free and relaxing steering feel throughout the entire speed range. Hopefully, this will address the complaints of some drivers that the EPS made the steering feel a bit too light.
Braking
As for wheels and tyres, there are two types. The City Type S gets 15x5J alloy rims with 175/65 tyres while the more expensive Type E version gets 16x6J wheels with 185/55 tyres. The standard tyres are Goodyear GT3 which we understand were specially developed (or tuned) by the tyre company for the new City to provide optimum performance.
16-inch wheels (left) for more expensive Grade E version and 15-inch wheels for Grade S. Goodyear GT3 tyres are said to have been specially developed or tuned for the new City
For brakes, the new City comes with discs all round, surely something that owners will appreciate. The front ones are ventilated to prevent fading under hard braking and the rear ones are solid discs. Some improvements have been made to the brake system, which includes ABS, Brake Assist and Electronic Brakeforce Distribution standard, to give a more linear feel when braking.
As mentioned earlier, the wheelbase has been lengthened and this, along with some clever packaging tricks, has created a more spacious cabin than before. More significantly however is the conscious effort to offer a more 'premium feel. Thats something which is different from most other carmakers who are cutting costs and reaching a point where such efforts are becoming visible. Honda does, of course, want to cut costs but its doing so in a smarter way that does not give a sense of 'cheapness.
Interior
Special attention was paid to the shape of the side bolsters and the hardness of the seat cushion padding. The seat springs and cushion padding are such that so the occupants lower back sinks into the seat cushion and is held in place. The seat backrest has been designed to naturally support upper body when moving in the direction of a turn, thus providing the back with necessary support. Besides greater seat comfort, the driver also gets a more optimized driving position and theres a tilt/telescopic steering column with seat height adjustable. A footrest has also been added and this was made possible by shifting the accelerator and brake pedals 15 mm to the right, thanks to the wider footwell available. Incidentally, the seat fabric is water-repellant, as before.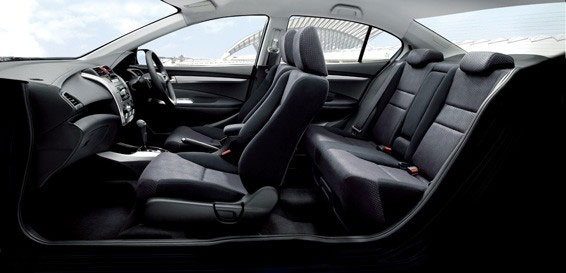 The rear area no longer has the ULTRA seat feature which many liked because it was a practical and useful feature (the seats could fold upright to create a big open space at the back). Presumably the surveys showed that the feature was not a major attraction and there was also an indication that the rear seats were more needed for carrying people. So the new City gets fixed seats but with the Type E version, there is a useful storage compartment under the seats which can accommodate an umbrella and other items, and the backrest (divided 60:40) can also be folded flat to extend boot length. The boot capacity is also generous at 506 litres, enough for four golfbags, and is claimed to be class-leading.

Up front, the dashboard is totally new and functional. The triple meter cluster with amber-coloured is cool and sporty (and no, they have not put back a coolant temperature gauge), set well inside a binnacle. Of note is the provision of a vehicle information display panel in the speedometer which tells the driver the fuel consumption (real-time and average) as well as estimated range on remaining fuel in the 42-litre tank.

The audio system on the central console is something Honda wants to shout about. Described as Advanced Audio, it has connectivity via USB and AUX jacks which means iPods and other devices can be used, extending the choices of music available. Sound reproduction is claimed to be the highest-quality and tuned to match the cabins sound characteristics.






Safety & Security
Safety is never forgotten by Honda. New technology has made it possible to increase strength and rigidity without adding weight. Hondas Advanced Compatibility Engineering (ACE) body offers both enhanced self-protection and better compatibility in collisions with other vehicles, even larger ones. Pedestrian-injury reduction is also incorporated in the body design.
As 2008 nearly comes to an end, the mood at car companies is not exactly one of jubilation even if sales targets for the year have been met (and some even exceeded their targets). The market is in a depressed state and especially during this last month of the year, many buyers think that they might as well wait another month and get a car registered in the new year. In short, its a gloomy market environment and with the economic situation, 2009 is a year thats going to be challenging as sales will be slower.

So it was a refreshing change to see Honda Malaysia launching the all-new City today, bringing some excitement to the market and demonstrating that while things may be down, Honda is not going to just go into idle mode. Theyre putting a brand new model in the showrooms which will certainly be a draw for weeks to come and keep a sparkle in the market. The much-improved new City C with prices ranging from RM84,980 to RM89,980 - should win many new customers and Honda Malaysia certainly aims to sell at least 1,500 units a month in 2009.
Specification

[click to enlarge]
Soure(s): www.honda.com.my